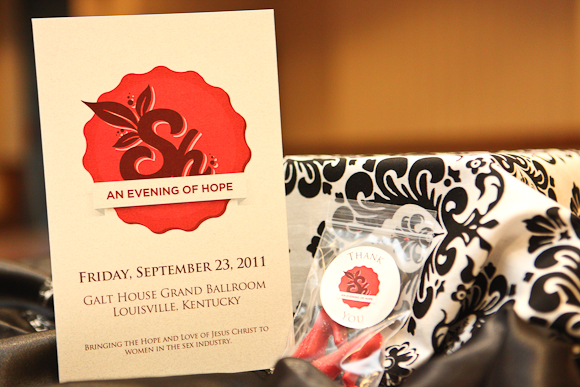 Last year we were just getting our feet wet with An Evening of Hope.  We didn't know what to expect and God did abundantly more than we could imagine.   This year God again provided abundantly more than we can ask for in so many ways.   A ballroom at the Galt House Hotel was filled last Friday night with so many amazing men and women that came to celebrate with the Scarlet Hope ministry team.   We were so blessed by the evening, both with the testimonies that were shared and in sharing the love with all the supporters!    So many of you pray over this ministry daily and it's because of those prayers on behalf of these amazing former strippers that we can spend a night like an Evening of Hope to celebrate what God has done.     It's such a blessing.  So thank you to each and every single one of you that attended our 2nd Annual Evening of Hope.
May God be glorified beyond this evening and we pray many more lives will be changed because of the gospel of Jesus Christ.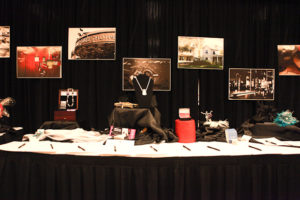 Left: A silent auction table filled with wonderful items businesses &  individuals gave to our ministry to help raise funds.  We had nearly 70 items this year!  Thank you to those who donated.
Right: Guests
A bit about the night:   The evening started with horse devours, silent auction bidding, and a welcome from our awesome registration team. Everyone mingled and shared stories and got to know one another.  It was a great way to start off the night.   The doors opened into a Grand Ballroom set for 370 attendees.    The Galt House staff served a nice meal of chicken with pineapple salsa, vegetables, salad and cheesecake! Hope all enjoyed their meal.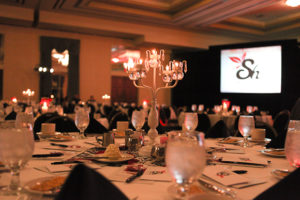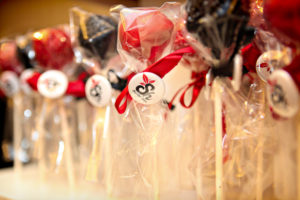 RIGHT:  Cake Therapy donated beautifully dipped cake pops to sell at our Gala.  The buttons were made and donated for the benefit of this ministry!   The cake pops were a HUGE Hit!