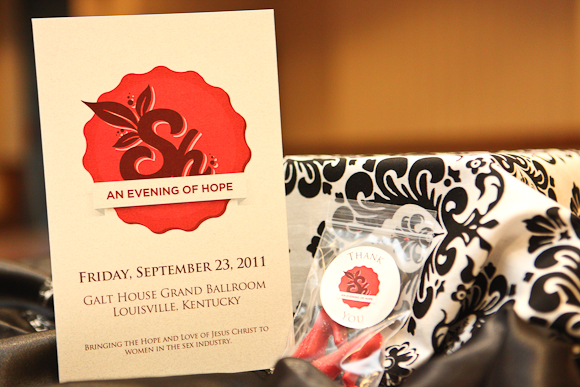 Last year we were just getting our feet wet with An Evening of Hope.  We didn't know what to expect and God did abundantly more than we could imagine.   This year God again provided abundantly more than we can ask for in so many ways.   A ballroom at the Galt House Hotel was filled last Friday night with so many amazing men and women that came to celebrate with the Scarlet Hope ministry team.   We were so blessed by the evening, both with the testimonies that were shared and in sharing the love with all the supporters!    So many of you pray over this ministry daily and it's because of those prayers on behalf of these amazing former strippers that we can spend a night like an Evening of Hope to celebrate what God has done.     It's such a blessing.  So thank you to each and every single one of you that attended our 2nd Annual Evening of Hope.
May God be glorified beyond this evening and we pray many more lives will be changed because of the gospel of Jesus Christ.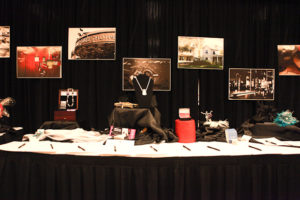 Left: A silent auction table filled with wonderful items businesses &  individuals gave to our ministry to help raise funds.  We had nearly 70 items this year!  Thank you to those who donated.
Right: Guests
A bit about the night:   The evening started with horse devours, silent auction bidding, and a welcome from our awesome registration team. Everyone mingled and shared stories and got to know one another.  It was a great way to start off the night.   The doors opened into a Grand Ballroom set for 370 attendees.    The Galt House staff served a nice meal of chicken with pineapple salsa, vegetables, salad and cheesecake! Hope all enjoyed their meal.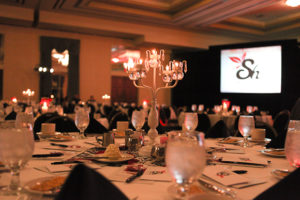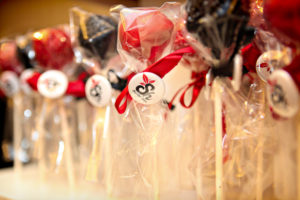 RIGHT:  Cake Therapy donated beautifully dipped cake pops to sell at our Gala.  The buttons were made and donated for the benefit of this ministry!   The cake pops were a HUGE Hit!
style="text-align: center;">
The testimonies given were from four beautiful women that have been redeemed by Jesus.   It takes so much courage to get up in front of any group of people and share with them your brokenness, past hurts, pains and trials.    But because of their faith in Jesus they had much to share of his powerful love on their lives.    It was amazing seeing where they were before through video testimonies and seeing who they are today because of the HOPE of Christ!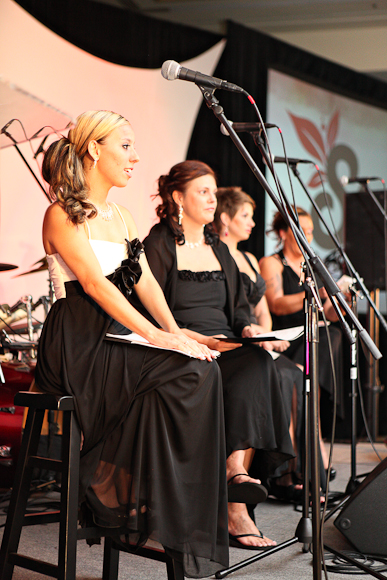 Thank you sisters for sharing your testimonies with us God was glorified through you!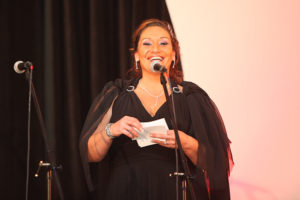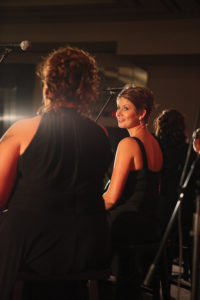 LEFT:  LeeAnna
Former Stripper 23 years in industry
RIGHT:  Casey, standing in for former dancer Kena – 29 years in industry
The transformation that has taken place in LeeAnna's life has been incredible to be a witness too.   She was so excited to share with everyone what God has done! We know God has great plans waiting for LeeAnna and each women that spoke along side her.   She was baptized on September 18th 2011!!
For I know the plans I have for you," declares the LORD, "plans to prosper and not to harm you, plans to give you hope and a future. Jeremiah 29:11
We are so thankful for everyone who served to put this event on.   We have prayed that you will be blessed by hearing the work God is doing in our city!    We love each and every one of you.    To receive more details about our Gala, please sign up to receive our emails, which contain content that are not suitable for the general public as we try and protect the women we serve.   How much was raised at this event will also be sent via email.   Thank you so much for your support!
The Scarlet Hope Outreach Team
All photographs were taken by Julie Wiegand of Jules Wiegand Photography to visit her site please go to: http://www.juleswiegandphotography.com/